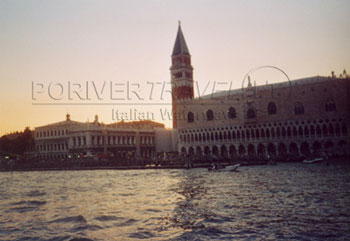 WEEK CRUISE IN VENICE, PADUA, FERRARA, VERONA AND THE PO RIVER DELTA (ref. VSI)  6 days 5 night cruise 2019. Full board cruise in Venice and Po river with beverage & wi-fi free aboard included
Cruise itinerary: Venice, Padua, Ferrara, Verona, Venetian Lagoon's Islands, Venetian Lagoon, Venice.
Cruise in the Venetian Lagoon, cruise along the Po river and cruise in the Po river Delta.  SPECIAL OFFER departure date june july: FREE CRUISE FOR CHILDREN up to 16 years old (excluding optional excursions)
A CABIN CLOSE TO MOM AND DAD (from 5 years old) or accomodation in the same cabin (1 child max.)
ADAPTED MEALS.

Dear Guest,
Enjoy the emotion of the luxury cruise in the Venetian Lagoon and on the Po river and its Delta and the pleasure of the comfort and the elegance aboard the Michelangelo motor ship.
Rediscover the art and the culture of Venice, the artistic beauties of Padua, the art and the prestige of Verona and the Renaissance city of Ferrara.
You will cruise along the Po river admiring the river meanders and the natural oasis where birds nest and where the Po river join the Adriatic sea.
<<<<<<<<<<<<<<<<<<<<<<<<<<<<<<<<<<<<<<<<<<<<<<<<<<<<<<<<<<<<<<<<<<<<<<<<<<<<<<<<<<<<<
Booking or special request click here
<<<<<<<<<<<<<<<<<<<<<<<<<<<<<<<<<<<<<<<<<<<<<<<<<<<<<<<<<<<<<<<<<<<<<<<<<<<<<<<<<<<<<

FREE CRUISE FOR CHILDREN up to 16 years old
DEPARTURE DATES 2019 CRUISE IN VENICE AND DELTA PO: 
JULY: from 3° to 8, from 8 to 13, from 13 to 18, from 18 to 23, from 23 to 28, from 28 July to 2° August;
AUGUST: from 2° to 07, from 07 to 12, from 12 to 17, from 17 to 22, from 22 to 27, from 27 August to 1° September.
<<<<<<<<<<<<<<<<<<<<<<<<<<<<<<<<<<<<<<<<<<<<<<<<<<<<<<<<<<<<<<<<<<<<<<<<<<<<<<<<<<<<<<<

CRUISE PROGRAMME
Cruise itinerary: Venice > Padua > Ferrara on Po River  > Verona > Venetian Lagoon's Islands > Venetian Lagoon > Venice

1st DAY - Venice
Arrival in Venice by yourself. Embarkation at 6.00 p.m. in Venice. Settling on board. Presentation of the crew. Welcome cocktail aboard. Dinner on board and free evening in Venice.
Overnight stop in Venice and overnight stay on board.

2nd DAY - Venice, Po River Delta, Taglio di Po, Polesella
Breakfast on board and a relaxing morning afloat as we cruise to Chioggia, where we arrive late morning. After lunch on board, optional escursion proposed:
CLASSIC : Optional guided tour of Padova, the town of St Antoine di Padova.Following a visit to the "Santo" basilica, dedicated to St. Antoine, take a stroll through the historic town centre and discover the "Café Pedrocchi", dear to the inhabitants of Padua.
DISCOVERY : Hiking on the wine route, through the Euganean Hills and the village of Arquà Petrarca.
Meanwhile, the ship cruises to Taglio di Po, where you will join it around 7.00pm. If you do not choose  to go on the excursion to Padua, a transfer is established from Chioggia to Taglio Di Po (1). We will stop in the famous resort of Sottomarina. Free time, enjoy its beautiful promenade by the sea or the city center with its pleasant places of Europe, Italy or Torado. Then drive to Taglio Di Po where we join our boat for dinner on board followed by entertaiment in the lounge. We moor for the night.

3rd DAY - Polesella, Ferrara, Verona, Taglio di Po
After breakfast on board, and early afternoon, escursion proposed for both packages: departure by coach for the tour of Ferrara (optional), tated world heritage from UNESCO. Once, Ferrara was the residence of the Este court.
Return on board for lunch. Early afternoon, optional excursions proposed: 
CLASSIC : Set off by coach to visit Verona, a truly fine Italian city of Romeo and Juliet fame, with its Roman theatre.
DISCOVERY : Verona by bike and the Giusti Gardens, one of the city's marvels.
Tour of this magnificent Italian city: Verona is famous for its star-crossed lovers, Romeo and Juliet, and its Roman theatre.
Back on board in Polesella and cruise along the Po river to Taglio di Po, that you will reach in the evening.
Overnight stop in Taglio di Po and overnight stay on board.

4th DAY - Taglio di Po, Chioggia, Venezia
Breakfast on board. Departure by coach to Chioggia (1). We will stop at Adria, which will allow you to discover this charmfull city which the Adriatic Sea is named after. Then we continue towards Chioggia. Port city of Roman origin, it is the second largest city of the republic serene and contains works and testimonials from various periods and various styles. Take some time to stroll round and discover the town for yourselves. During this time the ship sails towards Chioggia, where we join our boat for lunch. Cruise back to Venice, arriving there around 2.30 pm. Optional excursions proposed:
CLASSIC: Guided tour of the Doge's Palace(2), symbol of the glory and power of Venice, and the famous Piazza San Marco.
DISCOVERY: Following the footsteps of Casanova in Venice
Back on board in the evening. Dinner on board. Free evening. We moor for the night.

5th DAY - Venice, Islands of the Venetian Lagoon, Venice
Breakfast on board.
Departure for the included excursion to the Islands of the Venetian Lagoon.
You will make a tour of the Island of Murano, famous for its ancestral glass blowing techniques. You can also visit its beautiful churches, particularly Santa Maria and San Donato, one of the oldest in the lagoon.
You can also visit the Island of Burano, a fishermen's island, also famous for its laces. There you can admire the coloured fishermen's houses, handicrafts shops, and the typical lace manufacturing.
Back on board at Riva Sette Martiri, in the St. Mark's basin.
Lunch on board.
Free afternoon to visit Venice or opportunity to take a trip in a gondola (optional and payable aboard).
Back on board for the Gala dinner, with she sip moored  in Venice.
Overnight stop in Venice and overnight stay on board.

6th DAY - Venice
Departure early in the morning from Riva Sette Martiri for San Basilio Quay.
Breakfast on board. Disembarkation at 9.00 a.m.. End of our services.

<<<<<<<<<<<<<<<<<<<<<<<<<<<<<<<<<<<<<<<<<<<<<<<<<<<<<<<<<<<<<<<<<<<<

INDIVIDUAL PRICES in double cabins
JULY and AUGUST
- Main deck double cabin € 859,00 per person
- Upper deck double cabin supplement € 994,00 per person
- Suite double cabin supplement € 994,00 per person
Supplements:
- Single panoramic cabin supplement € 380,00 per person
- Travel agency service € 30,00 per dossier
- Child discount ( 3-9 years) 20% and in triple cabin discount of 30% (Third person discount in triple cabin 30%). The 2 discounts are joinable up to 50%.
---------------------------------------
Booking or special request click here
GROUP PRICES for minimum 20-25 people upon request if you want a quotation click here
---------------------------------------

EXCURSION PRICES per person 2019,  booked at the confirmation cruise before departure.
- tour of Burano and Murano (offered)
- guided walkig tour in Venice  and Doges' Palace (tourist guide + entry) Euros 61,00
- tour of Padua (transport + tourist guide) Euros 53,00
- Guided coach and visit Verona  (transfer + tourist guide) Euros 72,00
- Guided tour of Ferrara  (offered)
PACKAGE ESCURSION CLASSIC Euros Euros 186,00, discount 5% Euros 177,00 per person, on board Euros 207,00.

++++++++++++++++++++++++++++++

Tour of Burano and Murano (offered)
Guide tour of Ferra (offered)
Tour of Padua (transport + touriste guide) Euros 53,00
Verona by bike Euros 79,00
Venice on the foot of Casanova Euros 66,00
PACKAGE ESCURSION DISCOVERY VEB2: Euros 192,00, discount 5% Euros 182,00 per person, on board Euros 213,00. 

This prices are expressed for individuals and groups of minimum 25 people. Prices are indicative and can be changed without notice.
5% discount on "all excursions" package for individual bookings confirmed in the travel agency when they book. aboard the excursions are marked up  10%.

Please, take care that  the availability of excursions are restricted, so clients who book the excursions in agency before the departure date will have priority.
<<<<<<<<<<<<<<<<<<<<<<<<<<<<<<<<<<<<<<<<<<<<<<<<<<<<<<<<<<<<<<<<<<<<<<<<<<<<<<<<<<<<<<<

The quote includes: the cruise on full board from dinner on the first day to breakfast on the final day, drinks during meals taken on board (mineral water, wine, beer and fruit juice, one coffee) and at the bar aboard the ship, accommodation in a double air conditioned cabin with shower and WC, entertainment, the assistance of our hostess on board, the welcome cocktail, the gala evening, the excursions to Ferrara and Verona, insurance for medical repatriation, port taxes, Wi Fi gratis.

The quote does not include: all drinks on the wine list and all drinks taken on excursions or transfers, champagne,cancellation and baggage insurance, the optional excursions (book and pay on board or at the travel agent), personal expenses and everything not mentioned in the above "Price includes".
<<<<<<<<<<<<<<<<<<<<<<<<<<<<<<<<<<<<<<<<<<<<<<<<<<<<<<<<<<<<<<<<<<<<<<<<<<<<<<<<<<<<<<<
For the safety of our passengers, the captain and crew of the boat may decide to modify the navigational itinerary.
(1) Passengers can not stay on board during navigation between Chioggia and Taglio di Po nor the opposite direction.
(2) If the boat is not moored at the 7 Martyrs, a transfer by vaporetto will be organized by CroisiEurope (payable on board).
(3) Exact docking location will be announced by the crew. Alcohol can damage your health.
Please drink in moderation.
<<<<<<<<<<<<<<<<<<<<<<<<<<<<<<<<<<<<<<<<<<<<<<<<<<<<<<<<<<<<<<<<<<<<<<<<<<<<<<<<<<<<<<<

Formalities :valid national identity card or passport compulsory. Non-EU nationals are requested to consult their embassy or consulate.
N.B.: for navigational reasons and passenger, the company and the captain reserve the right to modify the cruise itinerary if necessary.

Motor ship details see link pdf at the end of the web page.

<<<<<<<<<<<<<<<<<<<<<<<<<<<<<<<<<<<<<<<<<<<<<<<<<<<<<<<<<<<<<<<<<<<<<<<<<<<<<<<<<<<<<<
To book a weekend on the boat see Weekend Short brake Holiday Exhibition
To see other river cruise programmes see Italy Waterways
Booking this cruise click here
<<<<<<<<<<<<<<<<<<<<<<<<<<<<<<<<<<<<<<<<<<<<<<<<<<<<<<<<<<<<<<<<<<<<<<<<<<<<<<<<<<<<<<

Individual booking process
1. Request from the client by format, e-mail, fax or phone
2. Delay of answer: maximum 1 day
3. Option validity (sending date + 4days) given from PORIVERTRAVEL.IT to the client
4. The client confirms if cruise is booked, by sending e-mail or fax (within the option delay)
5. The client must send to PORIVERTRAVEL.IT the participants' data,
name, surname, address, tax code, valid telephone number, (participants' age for possible discounts),
identity card data (card number, expiry date and issue country)
6. The confirmation is valid only on receipt of the 30% deposit to be paid in
the 5 days following the sending of contract/invoice
7. Only the reception of the deposit will confirm the reservation of the cabin
8. Settlement is due at least 25 days before the departure
9. Sending of boarding documents by e-mail on receipt of the settlement.

Payment and booking condition
Payment
Deposit of 30% to be paid by bank transfer in the 5 days following the
sending of contract/invoice (send a bank transfer copy at the fax number ).
Settlement of the cruise by bank transfer at least 25 days before the departure date.
The payment will be executed by bank transfer using authorization document.
The voucher (Boarding document) will be send as soon as possible by e-mail and only when settlement is done.
Cancellation fees
In case of cancellation, the cancellation fees will be as follow if the cancellation happens:
More than 60 days before departure 50 € per person
From 60 to 51 days before departure 40% of the total amount
From 50 to 30 days before departure 50% of the total amount
From 29 to 20 days before departure 60% of the total amount
From 19 to 2 days before departure 75% of the total amount
Less than 2 days before departure 100% of the total price

In case of cancellation the travel agency will keep a travel agency service fee starting from
50 € per dossier and other charges for travel agency services.